Administrative Procedures
At the Cal-JAC, it's our goal to keep administrative procedures as simple as possible, while still complying with all state and federal laws and regulations governing apprenticeship.
Rules and Regulations
The Rules and Regulations are the foundational document for the Cal-JAC. It contains definitions, administrative information, and detailed requirements for each of the 20 apprenticeable occupations. Click here to download the Rules and Regulations.
Apprentice Agreements
Apprentice agreements are contracts for training between the Department, Apprentice, Cal-JAC and Division of Apprenticeship Standards (DAS). Anytime a participating department hires new employees or promotes from within, it's important that the Training Coordinator initiates the new apprentice agreement process for anyone in an apprenticeable occupation. Each department has a unique URL that new apprentices will complete. Below is a sample of this form, click here to learn more about the process. If you are a new apprentice in need of an apprentice agreement, please contact your Department Training Coordinator for the link to the correct form.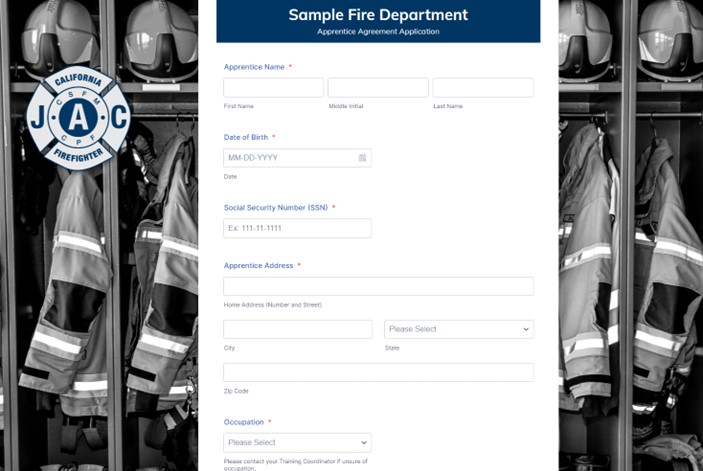 Change in Apprentice Status
As changes with apprentices occur in your department, it's important to keep us informed. Use the Change in Apprentice Status form to notify us of changes such as when an apprentice promotes to a non-apprenticeable occupation, is off work because of an injury, or leaves the department.
Reporting Training
Apprentice training hours are reported electronically on a monthly basis using one of several software packages available. For information on training codes and hours reporting, please refer to the Training Reporting Instructions Handbook. For questions about hours reporting, please email jacdata@cpf.org
Change in Department Personnel
If your department has a change in Fire Chief, Labor President, Training Coordinator, or Instructor or Record, please use the Change in Department Personnel form to notify us.
SubJAC Appointment Forms
When new SubJAC members are appointed, please use either the SubJAC Management Appointment form or the SubJAC Labor Appointment form to notify our office. The Fire Chief makes the management appointments, and must sign the form. The Labor President makes the labor appointments and must sign that form.
Wage Updates
State regulations require wage and benefit data to be submitted for each apprentice occupation from each participating fire department. When salaries or benefits change, revisions must be submitted to Cal-JAC. Departments can use this form to send updates to Cal-JAC and follow the example at the top of the form.